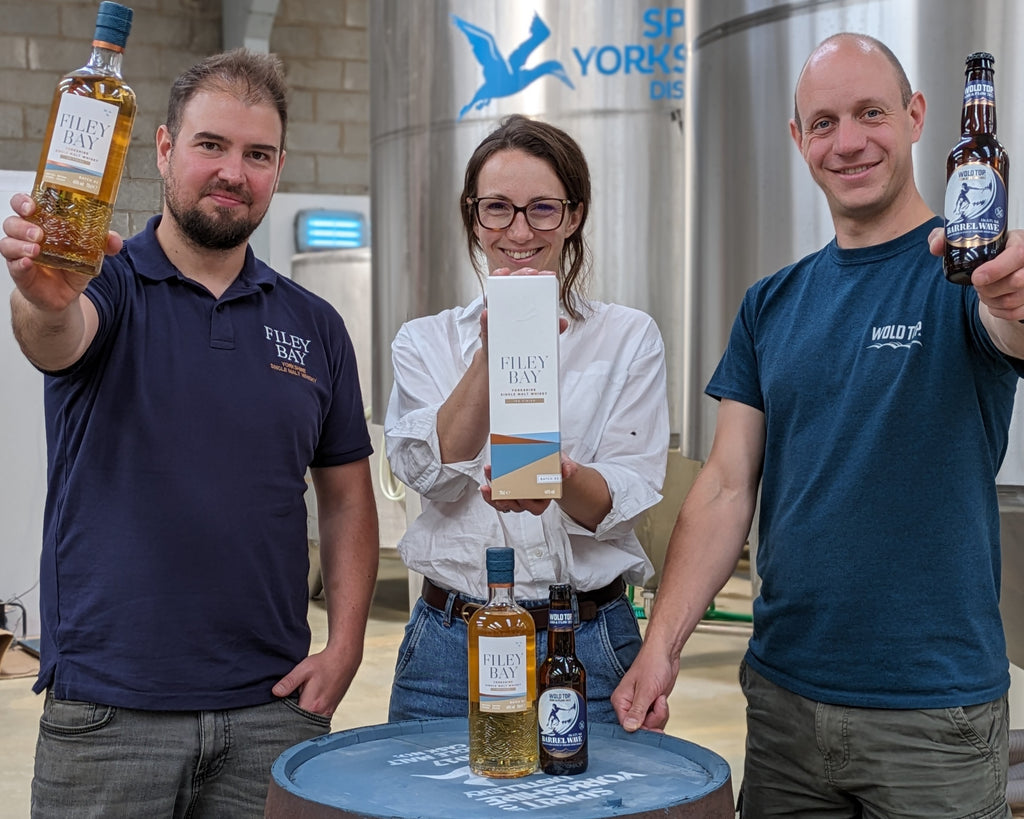 We've joined forces with Spirit of Yorkshire to create a unique beer and whisky
Posted by Tracey Baty on
We're excited to announce the dual launch of Filey Bay IPA Finish Batch #2 and Barrel Wave 2023.
Matured first in ex-Bourbon casks and then finished in second-generation IPA casks, Filey Bay IPA Finish Batch #2 is fruity and biscuity with notes of green apple, pear drops and lemon cake combined with a slightly hoppy flavour profile that makes for a distinctive single malt. 
Barrel Wave 2023 spent over a year in casks that latterly held Filey Bay whisky, extracting the creamy, vanilla notes from the wood whilst leaving hops and apple notes behind. Within hours of the beer being disgorged, the casks were refilled with mature Filey Bay whisky and left to finish further for several months.
Of the launch, our Whisky Director, Joe Clark said: "Single malt whisky matured in IPA casks is a very rare thing, and ones from field to bottle distilleries like ours are even rarer.
"Filey Bay IPA Finish Batch #2 is a unique whisky on many levels, tying together the farm, brewery and distillery perfectly into one whisky. These casks have now done two cycles of IPA, yielding two batches of beers: Barrel Wave 2021 is 9.1% abv and spent eight months in cask; Barrel Wave 2023, is 8.5% abv and spent 14 months in cask. The charging of the casks with the beer after whisky in turn imbues the casks with wonderful flavours readying them for filling with mature whisky again for further finishing to create our latest IPA Finish.

"Without our farm, brewery and distillery, it would be impossible to create casks or a whisky quite like this. These very special casks are amongst the most unique in our warehouse and, now being second generation, some of the rarest in the whisky industry."
"Barrel Wave 2023 is a beautifully rounded, smooth, full-bodied beer where hints of soft citrus fruits and hoppy bitter notes marry with the light, creamy, vanilla flavours of the Filey Bay whisky," said Brewery Director, Alex Balchin.
Pictured left to right: Joe Clark, Jenni Ashwood and Alex Balchin
---
Share this post
---
---