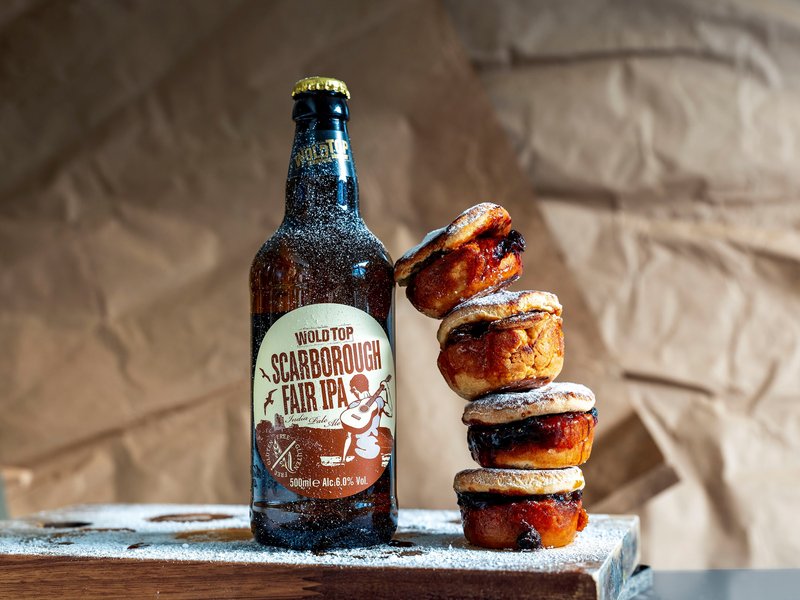 The Wold Top guide to Christmas food and beer pairing
Posted by Wold Top Brewery on
It's officially December so we're going to talk about…...Beer! (and the food that goes really well with it over the Christmas period!)
Here at Wold Top not only do we enjoy drinking great Yorkshire beer, but we love cooking with it and pairing it with food too, so here's our guide to help you enjoy a 'beerific' Christmas Dinner! 
Canapés & Starters:
Smoked salmon on some fresh bread or a blini with a squeeze of lemon and a dash of pepper, accompanied by a nice cold glass of Wold Gold or Landmark Lager is the perfect amuse-bouche after a morning of present opening. 
Pigs in blankets accompanied by a sweet, sticky dipping sauce made using honey, mustard and a dash of Headland Red are also a great start to your Christmas eats! Alongside a glass of our flagship Wold Top Bitter. 
The Main Event:
Turkey, roasted in the oven and basted with a butter and beer mix to keep it moist and tender is a firm favourite here at Wold Top. Here's how we do it:
Mix 25g of melted butter with a bottle of any of our pale ales like Angler's Reward, Against the Grain or Hello Velo
Pour the beer and butter mix over the turkey with this mix
Keep basting the meat with the beer and butter mix throughout the cooking time
Halfway through the cooking time, pour another half (or whole, depending on the size) bottle of beer over the turkey to keep it hydrated! 
We usually have roast turkey on Christmas Day, but this idea would work just as well with a goose or ham.
For a meat-free option, all our bottled beers are vegan friendly and would work just as well alongside a nut roast, a vegan pie (sweet potato & beetroot, yum!) or a cranberry and lentil bake for example. Many of our bottled beers are also certified Gluten Free as well – see the list on the website. 
Alongside the turkey and the traditional trimmings, we're also partial to some Brussel sprouts, cooked in a frying pan with some bacon (or pistachios and pomegranates as a vegan alternative), shallots and a dash of beer (Wold Gold or Against the Grain) to create a beautiful glaze. And for a festive centrepiece for your eyes and tastebuds, we love red cabbage braised in Scarborough Fair IPA with apples, cinnamon and star anise. 
Christmas dinner beer:
As for a beer to pair with Christmas dinner, our perfect partner is a pint of 5 Wold Rings.
Dessert:
Love it or hate it, Christmas pudding is a staple at the British Christmas table. For such a rich, dark dessert, you need a rich, dark beer, so like to pair Shepherd's Watch or Marmalade Porter with our pudding.
For an alternative Christmas dessert, how about some vegan-friendly mince pies with cherries and hazelnuts alongside some dairy-free chocolate ice cream and a glass of Headland Red?
Finally, a personal favourite with us (Yorkshire has such good cheesemakers!) no Christmas Dinner is complete without a cheeseboard to finish. Here are our top beer and cheese combinations:
Cheddar - Wold Top Bitter
Brie/Camembert (soft rind cheese) - Against the Grain, 5 Wold Rings or Landmark Lager
Stilton/Gorgonzola (blue cheese) - Scarborough Fair IPA or Marmalade Porter
Goat's Cheese/Feta - Wold Gold or Benchmark IPA
Emmental/Gruyère - Angler's Reward
---
Share this post
---
---