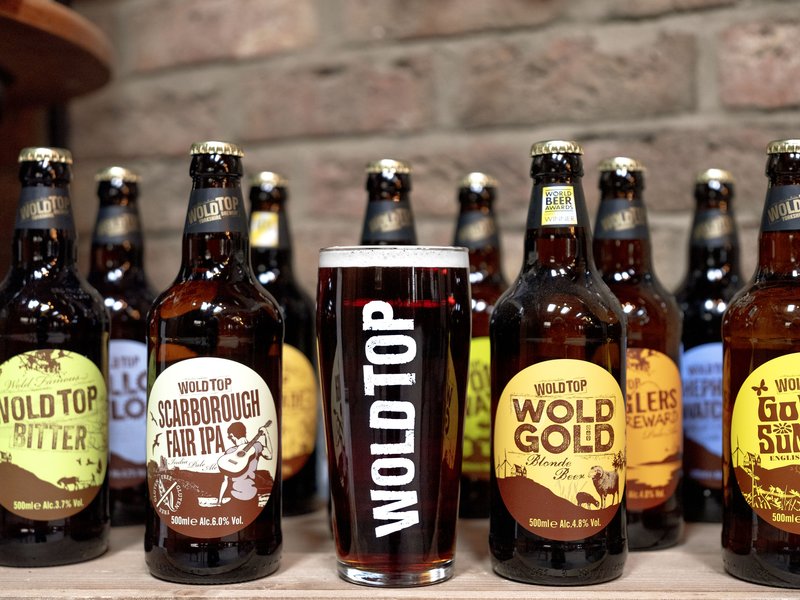 The Wold Top guide to beer gifting
Posted by Wold Top Brewery on
The festive season will soon be upon us. We're looking forward to getting together with family and friends who we haven't seen much over the last couple of years. Whatever you're doing, we can promise you lots of award-winning Yorkshire beer, with a choice of ways to enjoy it. We've got:
Bottles, mini casks and polypins
Christmas gift ideas from beer subscriptions to Wold Top merchandise and vouchers
Choose from home delivery or click and collect from the brewery.
Choose beer gifts by flavour profile
If you're looking for beer gifts, we have a wide range to choose from and lots of ways to enjoy them.
For those who like a more mellow drink, try our Wold Top Bitter, with its gentle bitterness and malty undertones or Landmark Lager with its notes of honey and herbs. Dark beer lovers will really enjoy our full-flavoured Marmalade Porter with citrus notes from the hops and rich coffee and chocolate flavours from the roasted malts. Shepherd's Watch, our winter beer is also great for dark beer fans, who will find it slightly sweeter, with hints of cinnamon and a smooth mouthfeel. 
For those who enjoy a fuller flavour, then Scarborough Fair IPA, with its triple hop blend is always a winner as is our new session IPA, Benchmark, which takes the hop hit from Scarborough Fair and takes it up a notch. 
If you don't know the names but know what style of beer your beer lover likes, you can order that way too – simply choose from the amber, pale, dark, hoppy, malty, fruity or citrus style options online. You can pick and mix to make your own case or buy a readymade mixed box in pale, dark or gluten free options.
Join our club
For the beer gift that keeps on giving, our Beer Bottle Club and Mini Cask Subscriptions deliver beer to your beer lover's door once a month for a period of three, six or 12 months.
When you gift a Mini Cask Subscription, your beer lover will be able to enjoy our seasonal specials, as well as some of our core range of beers - either all in 5 litre casks, or a cask/bottle combo. There is also a Gluten Free subscription for people with a gluten intolerance or coeliac disease. We have different options, including rolling subscriptions or advance purchase options, to suit your budget.
Bottle, cask or polypin?
Our beer gifts are also presented in a range of formats for your convenience. Bottles are a great option for single serve occasions, whilst 5 litre mini casks or 10 or 20 litre polypins of cask conditioned beer are great for Christmas and New Year parties.
Non-beer gifts
If your beer lover's also a fan of brewery merchandise, choose from long or short sleeved t shirts and hoodies, an iconic Yorkshire flat cap, Wold Top glasses or tickets to the Big Sky Beer Festival 2022.
And if you're still not sure what to buy your beer lover, how about a Wold Top gift voucher? Our beer and merchandise vouchers are available in £10, £15 and £25 denominations for redemption in the brewery shop, whilst our bespoke tour vouchers are available for both brewery and joint brewery and Spirit of Yorkshire distillery tours. Tours take a look behind the scenes at the brewery followed by a tasting in the bar (or beer to take away for the designated driver) and a branded glass to take home.
---
Share this post
---
---