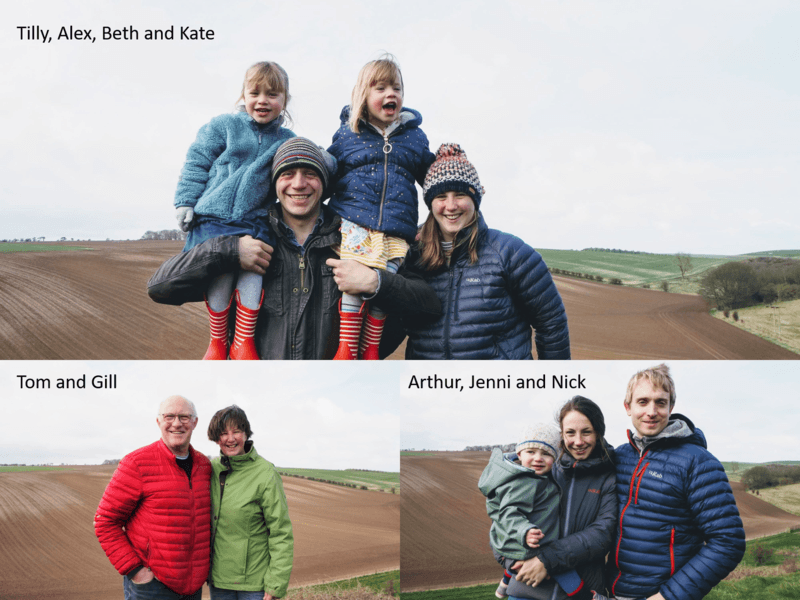 Our family history from publicans to farmers and brewers
Posted by Wold Top Brewery on
For those who don't subscribe to our monthly newsletter, you missed this month's Directors' Diary that tells how the Mellor family went from pulling to brewing pints...Grab a cuppa or a beer and have a read - it's a great story.
The Mellor family, current owners of Hunmanby Grange Farm, the location of Wold Top Brewery, will have been farming and working the land here for 75 years this year.The family moved here in 1945, after the war ended for a new start and new lifestyle. But we've always stayed true to our origins, as we will explain now…..
The original Mellors (our lineage anyway) were publicans and blacksmiths, in a village called Triangle (near Halifax) on top of the Pennines. They ran the 'Triangle Inn' an 18th century coaching inn (now Grade II listed) from which the village is said to have taken its name. 
Please bear with us going forwards, there are a lot of Thomas' in this tale! (We're an imaginative bunch when it comes to naming sons!)
In 1916, when publican Thomas Mellor (1) of the Triangle Inn, Triangle, West Yorkshire, passed away unexpectedly, it shattered the dreams of his eldest son Tom (2), an industrial blacksmith, who'd had every intention of moving to Canada to find his fortune. Instead, he found himself as the landlord of a coaching house and with the weight of the family on his shoulders. 
Fortunately for him, in the village there was a house called 'Thorpe House' owned by and resided in by a man called Arnold Williams, a local businessman and also (from 1922-24) Liberal MP for Sowerby. He had two children, and hired a governess to look after them. This governess was a Swiss lady, Albertine, who, after arriving first in London and then gaining a position with Arnold Williams family in West Yorkshire, found herself stuck there as war broke out across Europe. 
Also fortunately for Tom (2), his importance and need as the area blacksmith excluded him from active service. 
Love and attraction sprung up between Albertine and Tom (let's pretend their eyes met across the crowded saloon bar of the pub), they married and had five children: four girls (Madeline, Germaine, Jacqueline and Yolande) and one boy (Thomas). 
Thomas (3) the son struggled with a weak heart though and after consultations, it was advised that the smoke and smog of industrial West Yorkshire and Halifax wasn't good for him - they should find some cleaner air. As the Second World War drew to a close Tom (2) and Albertine began to look for properties in more rural, 'cleaner' parts of the county. In 1945, they found Hunmanby Grange, a reasonably large farm and house close to the coast under big skies and far away from any factories. And the family flourished. 
In the mid-50s Thomas (3) met Shirley from the local village and after courting at a few local dances they married and moved into the farm too - soon Tom (4) and Josette arrived. 
Both Thomas (3) and Tom (4) were progressive farmers - always looking for ways to improve crop and animal yields and to keep the farm moving forwards. In 1987, Thomas (3) gave Tom (4) the reins and allowed him to take over the farm management and direction.
Tom (4) attended Wye Agricultural College in the early 80's and it was there that he met Gill, who was studying horticulture. They married in 1983 and had two daughters (we had to break the mould at some point!) Kate and Jenni. 
Since the late 80's Tom and Gill have been constantly working to secure the future of the farm as a livelihood for not only their own family but for the next generations also. We've grown potatoes, done bed and breakfast pigs, kept large scale free range chickens for eggs, invested in wind energy and finally in 2003 started Wold Top Brewery. Alongside this we have continuously grown wheat and barley and maintained the biodiversity of our land as much as we can through stewardship schemes and more. 
So really, we've almost come full circle, except we don't serve the beer from behind the bar now, we make it instead!
The next generation are all in the business now, Kate and Alex have been working for Wold Top and the Farm for the last 10 years and Jenni and her husband Nick have recently relocated North from London to come onboard too. 
Future generations are still too young to have a say….but we're sure they will! 
If you would like to keep up to date with news from the brewery and the farm, sign up to the newsletter, by following the link or follow us on Instagram, Facebook and Twitter.
---
Share this post
---
---