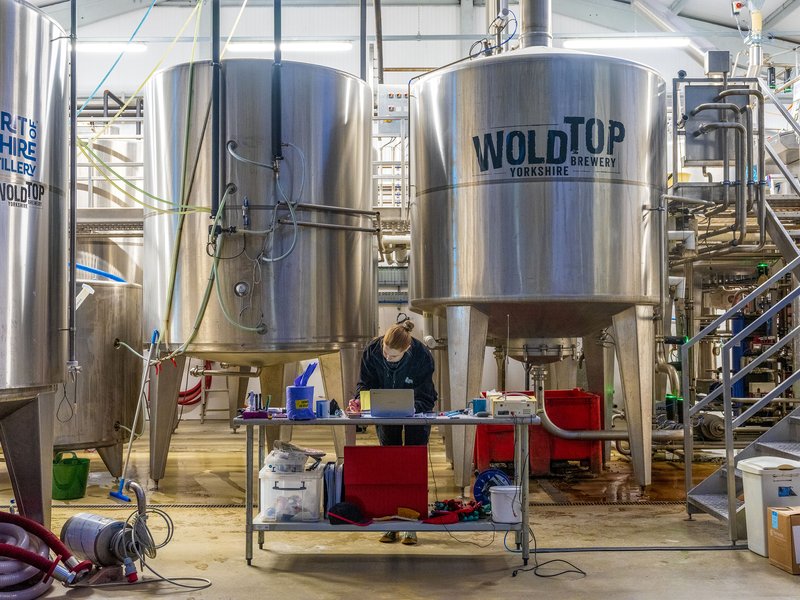 Lockdown life at the brewery
Posted by Wold Top Brewery on
What an odd month April was…. It's passed very quickly (for us at least) and we can't believe it's almost mid May already….!
It will be interesting to see what the next weeks bring, but for now, let us give you a little insight into lockdown life here at Wold Top. 
The closure of pubs, restaurants and other hospitality outlets at the end of March has had a significant impact on our business (as I'm sure it has on many others) and we lost 40% of our trade overnight. This meant some pretty intense thinking and restructuring happened very quickly and we have, for the time being, changed the focus of our sales to be more online, independent retail and national retail based. 
Due to the decrease in production we unhappily have put into furlough several of our production and office based team and are now running on a reduced staffing level and everyone is doing everything (two metres apart!). 
Thanks to all you wonderful people, we're sending out lots of boxes every day for dispatch all over the UK. We love seeing pictures of happy deliveries so please keep them coming via Instagram, Facebook and Twitter.
We are also delivering as much as we can locally, to farm shops, deli's, wholesalers and even a few pubs who are running takeaway services. 
And as much as we advocate buying as locally and as independently as possible, we can't hide or deny the fact that one of the ways we are keeping going is through our continued sales via the major national retailers. Our aim is for our beer to be available to everyone who wants to try it, so if you can't get to a farm shop that stocks us, then a supermarket may be your next best option. 
Farm life continues much as usual - we've got all our barley planted for this year to give us next year's malt and we're now just patiently watching it grow! 
Day to day life is definitely different though - less traffic on site, less airplanes overhead, more birds singing and more time to appreciate the little things. 
We're working on lots of things behind the scenes too, so as well as our new 'premixed' cases for online sales, watch this space for new 'virtual' events coming soon!  

As ever, thank you all for your continued support. We really couldn't do this without you so let's keep working together, drinking great beer and get to the other side. 
Stay safe folks, cheers!

Alex and Kate
If you want to read more stories like this one, you can sign up to our newsletter here 
---
Share this post
---
---