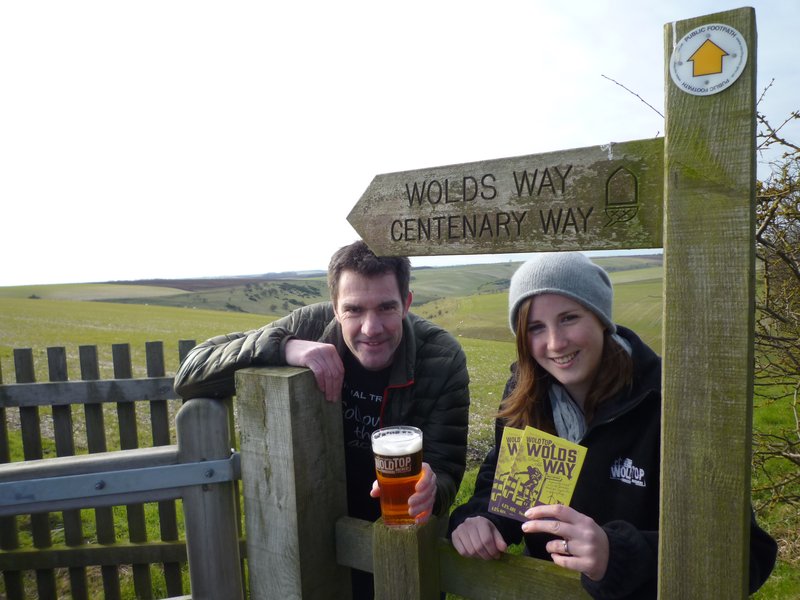 Yorkshire coast brewery signs deal to brew National Trail Ale
Posted by Wold Top Brewery on
We're thrilled to be able to share some very exciting news...
Almost a decade after Wold Top Brewery brewed a pale ale to celebrate the 25th anniversary of the Yorkshire Wolds Way, it has signed a three year deal for Wolds Way to be the official beer of the 79 mile National trail that runs from Hessle to Filey.
Brewery accounts manager, Kate Balchin said: "We are delighted to support the Yorkshire Wolds Way National Trail that passes within 1.3km of the brewery. It is a beautiful trail with some amazing views and we're very fortunate to have it on our doorstep."
National Trails Officer, Malcolm Hodgson is responsible for the Yorkshire Wolds Way and is pleased with the collaboration: "We are very grateful to Wold Top Brewery for their continued support of the Yorkshire Wolds Way National Trail. The valuable funds raised from the sale of beer will be used to maintain and support the trail."
Wolds Way is an award winning pale ale that is brewed from home grown Maris Otter malt, Goldings and Cascade hops and the farm based brewery's own pure, chalk-filtered water. It is a refreshing ale with a fruity top note and an ABV of 4%. It is available now on draught in pubs along the trail and a limited edition 500ml bottle will be available direct from the brewery shop and website, and from selected local retailers in May.
The Yorkshire Wolds Way opened in 1982 and is one of 16 National Trails throughout the UK. It was the tenth National Trail to be launched by the Countryside Commission (now Natural England) and now enjoys over 78,000 visits every year.  In January, comedian Jo Brand walked part of the Yorkshire Wolds Way as part of her "Hell of a Walk" that raised over £655,000 for Sport Relief.
---
Share this post
---
---