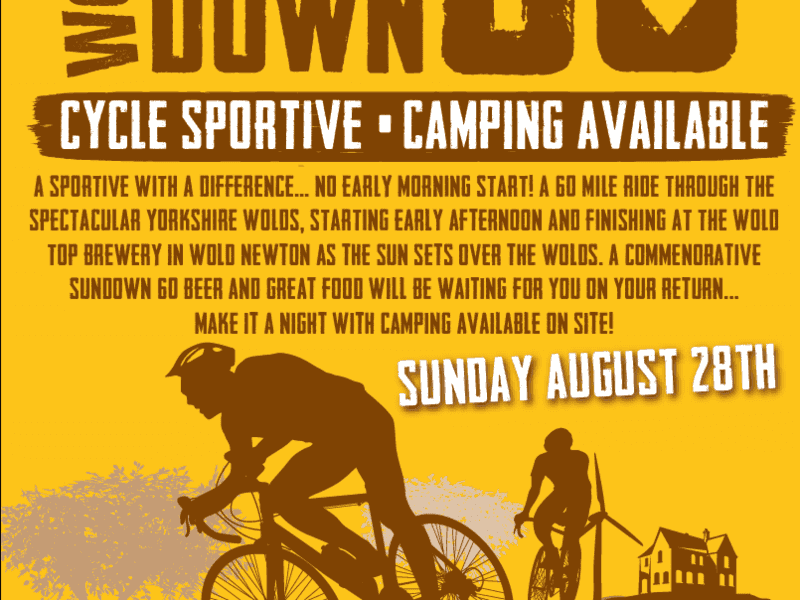 Yorkshire Coast Brewery hosts new sportive
Posted by Wold Top Brewery on
A unique cycling sportive initiated by the managers of one of Yorkshire's most successful racing teams this season, and hosted by the Wold Top Brewery, has been launched.
Organised by Richard Baldwin and David Hought from Wold Top Actif Road Racing Team, the first Sundown 60 sportive will take place at Wold Top Brewery on Sunday, August 28th.
This sportive challenges convention as, instead of an early morning start, riders will depart at 2.30pm. The challenging route will take riders on a spectacular 60 mile route into the heart of the Yorkshire Wolds and Ryedale.
Mr Hought said the idea behind the sportive was to create an unusual and unique event for cyclists in Yorkshire.
"Due to the later departure time, we expect to arrive back at Wold Top Brewery, hopefully on a beautiful day, with the sun setting over the Yorkshire Wolds, hence the name. It's all about getting people out into the countryside onto routes they don't know.
"The topography is certainly hilly – it will be a challenge but we'll make sure that anyone who finds they are struggling will be supported and swept along by the rest of the group.
"Wold Top Brewery is the perfect place to arrive after a hard day's cycling and get to know each other over a pint of the best beer in the world."
Some of the Wold Top Actif team will also be acting as marshals on the day, he added. En route technical support will be available from Vive le Velo and Hull street food business KerbEdge will provide refreshments en route and catering at the end of the ride.
The Wold Top Actif team is sponsored by Wold Top Brewery, Actif Wheels, Oriel Printing and VLS and it is currently British Cycling's highest-ranked team in Yorkshire for road and track in its first season.
Gill Mellor, director at Wold Top Brewery, said they're looking forward to welcoming the cyclists back to the brewery.
"As keen cyclists ourselves, it's great to know that the Wolds are being enjoyed by others, and we're really looking forward to hosting this event."
Entries are open to cyclists aged 18 and over and entry costs £35. For further details and to book on, please visit https://www.britishcycling.org.uk/events/details/147032/The-Sundown-Sixty
---
Share this post
---
---