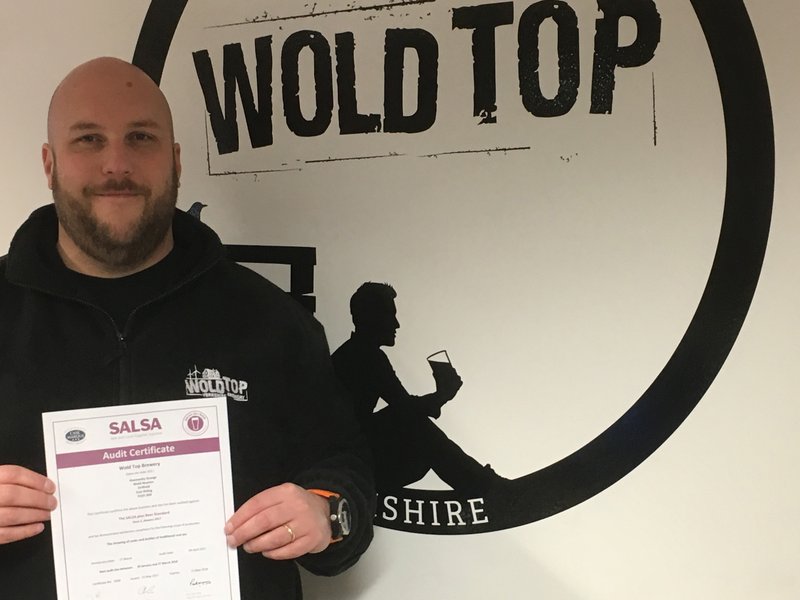 We're proud to be SALSA accredited for the sixth year running
Posted by Wold Top Brewery on
We're please to report that we have retained our Safe and Local Supplier Approval (SALSA) food safety assurance certification following a recent audit.
The SALSA standards are written by food safety experts and incorporate the legal requirements that producers must meet and best practice for professional food buyers.
In order to gain SALSA, we have to demonstrate our ability to produce safe and legal food and to continually comply to SALSA standards.
Of the accreditation, Office Manager Jason Lukehurst, pictured above, said: "We're very pleased to have passed the audit. Having Salsa's independent industry expert officially accredit our quality and consistency throughout the production and bottling process gives our customers confidence that our beer is consistently good.
"We have been awarded the accreditation for six consecutive years and it has helped us to regulate our own quality control procedures, and to have a better understanding of what we should be looking for from present and future suppliers.
"It has also given us an entry into some of the larger national retailers, who accept it as a quality and compliance measure."
Jason added: "SALSA also helps with our specialist bottling business, Agricola Bottling, as it means that other breweries can say their beer is packaged by an approved supplier."
SALSA was launched in 2007 as an accreditation scheme designed for small food and drink business.
Operating from a base in North Oxfordshire, more than 60 local SALSA auditors and mentors work with members throughout the UK to implement best practice and controls and to provide practical guidance.
---
Share this post
---
---