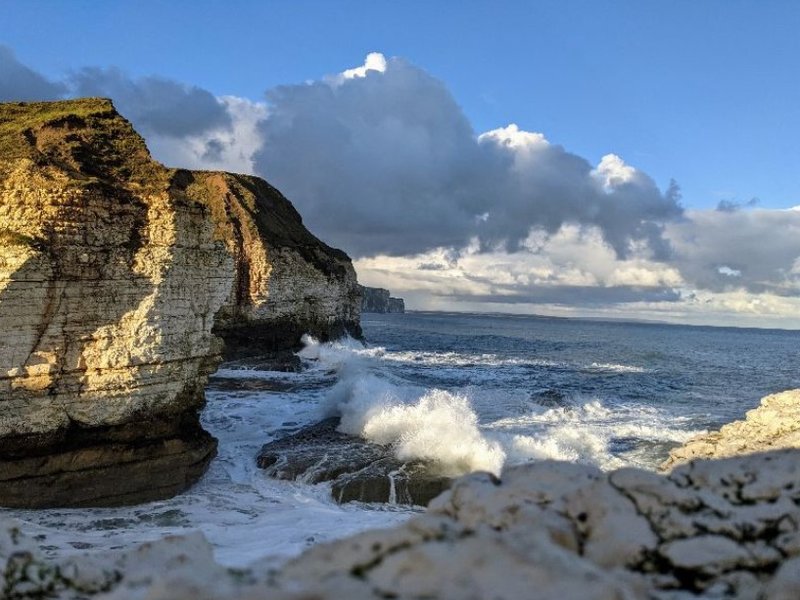 The White Stuff
Posted by Wold Top Brewery on
In this month's newsletter, Kate and Alex are looking at our foundations, the substance that holds us up, gives us strength and makes us who we are….Chalk. 
The Yorkshire Wolds have their origins in a series of chalk deposits laid down in the Cretaceous period that rise up above sea level at Flamborough and dip down again at the edge of the Humber Estuary. This 'line' of chalk deposits then reappears throughout the rest of the UK along the east coast before sinking down again at the south coast and going under the Channel. 
So the white cliffs of Dover and the white cliffs at Flamborough (pictured) are, in theory, related! 
The underlying chalk has given this area its distinctive landscape of gently rolling hills cut by deep, steep-sided, flat bottomed valleys which have been formed by glaciers. Chalk is a soft, porous, sedimentary carbonate rock formed by the compression of sub-microscopic plankton and as such is exceptionally efficient at drainage so you will find little surface water on the Wolds. 
It's given this area the unusual custom of 'upside down' farming whereby instead of growing crops on the lower levels and raising livestock on the upper ones the situation is reversed. The steep-sided valleys are better suited for livestock whilst the crops can be more easily grown on the gentler hill tops. 
In addition to the benefit of growing world class malting barley on chalky soil (barley deals well with the alkalinity) the chalk in this area also gives us and the people of this area many other resources. 
It has been quarried and used as building material (the original Flamborough Lighthouse for example) and cement additives as well as being quarried and crushed for agricultural purposes to help decrease soil acidity. 
It also helps filter and store our water in an aquifer deep underground. This water feeds many areas of the Yorkshire Wolds and we're lucky to have it. The fact that we use water that is drawn directly from this aquifer to make our beer gives the beer a unique taste as it undergoes no chemical treatment prior to use. Totally pure.  
It shapes our landscape, helps feed and nourish us and provides us with many ways to make a living - a very important element indeed.

Photo credit: Kate Balchin
Please follow the link if you would like to subscribe to the newsletter. There's 10% off for new subscribers!
---
Share this post
---
---