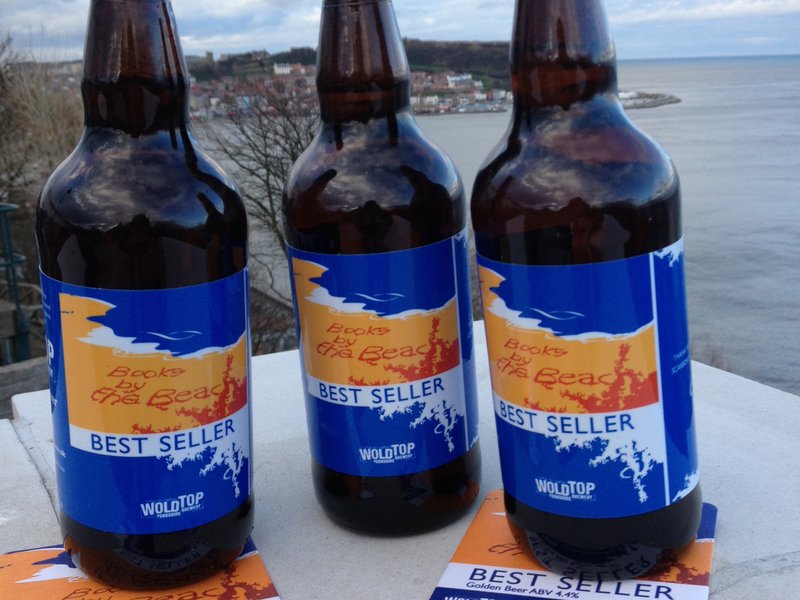 New book festival promises to be a Best Seller
Posted by Wold Top Brewery on
A Yorkshire coast brewery is supporting the inaugural 'Books by the Beach' festival with a bespoke beer.
Hunmanby based Wold Top Brewery has produced a limited edition beer, Best Seller, to mark the new Scarborough Book Festival that takes place between 24th and 27th April.
The stellar literary line-up includes Kate Adie, Joanne Harris, Sally Magnusson, Greta Scacchi, James Naughtie and Joanne Trollope. In addition, on 28th April there will be a special bonus appearance from Scandi-crime superstar Jo Nesbo who is visiting just three locations on his UK tour.
Throughout the festival, events will be held around the town in exciting locations, including the town's Victorian prison and Scarborough Town Hall will be hosting a gothic dinner.
Books by the Beach Co-Director, Heather French said: "It's a great honour to have attracted such distinguished authors to our first festival and we're looking forward to it very much. "
Best Seller Ale is a light, fruity amber beer that will be available in selected pubs in Scarborough during March and April. In addition, there is a glass of the festival ale included in the ticket price for the James Naughtie and Mark Ellen in conversation with Mark Billingham events. There will also be a bespoke bottled beer that will be given to all of the authors. Brewery owner, Gill Mellor said: "We're delighted to play a part in putting Scarborough on the literary map by supporting this great festival we hope that the authors will appreciate being able to take some Yorkshire ale back home with them."
Festival tickets are available now at Scarborough Tourist Information Centre in the Brunswick Centre. Telephone booking is also available on 01723 372075 and more information can be found at www.scarboroughbookfestival.co.uk.
Farm based Wold Top Brewery is situated only 12 miles away from Scarborough. It brews traditional real ale from home and Wolds grown malting barley, the finest hops and chalk-filtered water from the farm's own borehole. Its range of award winning ales is also available through the website, independent, family owned retailers, farm shops, delis, hotels, pubs and off licences throughout Yorkshire and Lincolnshire.
---
Share this post
---
---