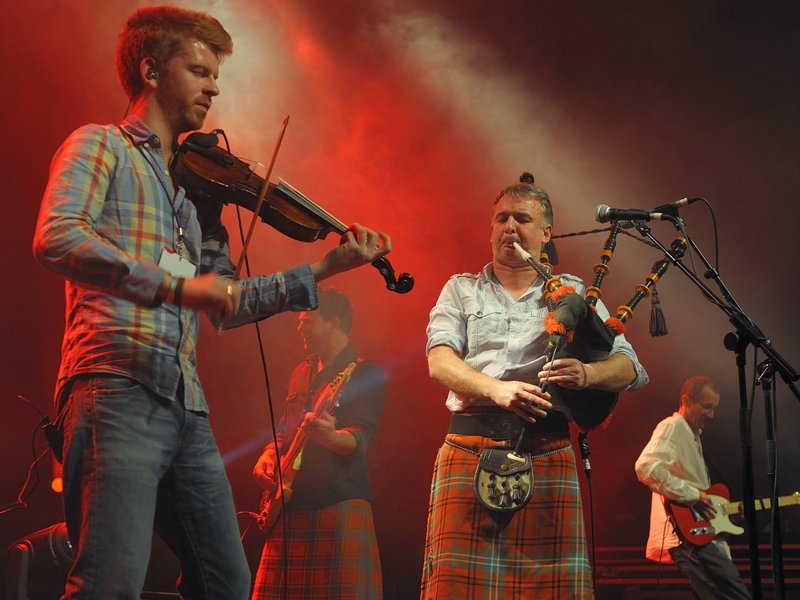 Impressive line-up for the sixth Moonbeams Wold Top Festival
Posted by Wold Top Brewery on
Tickets for the sixth Moonbeams Wold Top Festival are now on sale.
Boasting the most impressive line-up in its six year history, Moonbeams Wold Top Festival takes place at Wold Top Brewery near Bridlington on 11th and 12th July and promises a weekend of great music, entertainment and delicious Yorkshire food and drink.
Voted 'Best Live Act' in the BBC 2012 Folk Awards, headline act The Peatbog Faeries are the figurehead trailblazers of the Celtic Dance Music renaissance who take traditional Scottish music and bring it fresh-faced and breathless into the 21st century.
Other confirmed musical artists include some of the finest acts in the UK; Nizlopi, whose ex roadie, Ed Sheeran said: 'Everything I know about live performance I learned from them'; Breabach, who will be heading off to Glasgow to perform at the Commonwealth Games after the Moonbeams Festival; Martyn Joseph, lauded by Bob Harris as being '..one of our most intelligent writers. He gets better and better', five piece alternative rock band,Van Susans and many more. The full line up can be seen at www.moonbeamsevents.co.uk.
There will be music from noon until midnight on two stages and in 'The Big Sky' Tent for budding musicians (and late-night festival-club sessions). Throughout the day, delicious food will be on sale at the Peace Cake Cafe and Wold Top Brewery will naturally be providing liquid refreshment, including a specially brewed Moonbeams Festival Ale that will be available in commemorative bottles for the first time this year.
On Saturday morning, there will be a guided walk on the Wolds Way plus an hour of yoga in the garden. Both are complimentary, but the yoga is limited in terms of numbers and requires participants to bring their own mat.
Festival organizer Leila Cooper is delighted with this year's line up and said: "We were delighted that the Peatbog Faeries, who are headlining at much larger festivals than ours, want to come all the way from Scotland to join us! We're naturally very proud that our reputation as a small, friendly, boutique festival has made them want to participate!"
Described by former Moonbeams Wold Top Festival artist, Adrian Edmondson as "A piece of heaven on the Wolds", Leila attributes its success to the blend of national names with excellent local and emerging acts plus its unique atmosphere.
Brewery owner and keen musician Tom Mellor is delighted to host the Moonbeams Wold Top Festival again: "Every year it just gets better. We're high up on the Wolds with spectacular views; it's a fantastic backdrop for an amazing line-up of musicians and entertainers, plus an idyllic place to camp."
Tickets cost £60 for an adult weekend festival ticket and camping costs £15 per vehicle. They are available from http://http://moonbeamsevents.co.uk/. For any further enquiries, please contact the Festival Organiser, Leila Cooper on 07810 831317.
Moonbeams Events is a series of lovely relaxed nights of lovely music that are dedicated to bringing the best acoustic, folk and roots music to East Yorkshire. Moonbeams is also part of the Beverley Folk Festival, with the Moonbeams Sessions held in the Wold Top Marquee and the host of the Festival Club, where some of the finest artists from around the region perform.
[gallery ids="2406,2402,2401,2400,2399,2398"]
---
Share this post
---
---