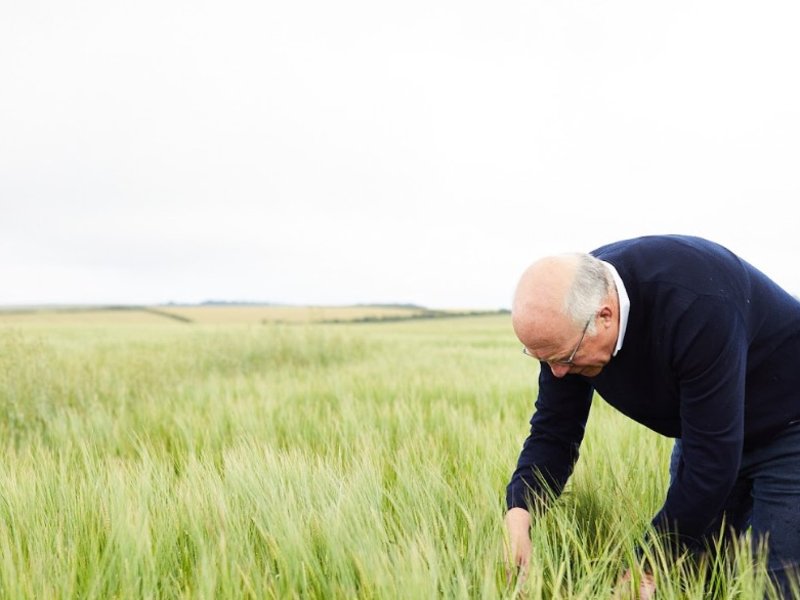 Harvest at Hunmanby Grange
Posted by Wold Top Brewery on
August for us here at Wold Top means harvest and currently that entails checking the crops daily to see how they are ripening and constantly monitoring the weather forecast! 
Our wheat will be ready first, hopefully in around two weeks from now followed by the barley at the end of the month. 
As you may already know, we've trialled a different way of drilling and growing some of our barley this year so it will be interesting to see how the two versions come out.  
What we are looking for are ears of corn with lots of tightly packed grains. These should be firm to the touch but not so dry and hard that they will fall from the head onto the ground below. 
Farmers talk about harvest in terms of moisture and yield. Ideally, a crop of barley should be harvested at a moisture level of less than 16-18%. Most grain merchants would look to buy in grain at around 12-13% moisture which is the aim, but the British weather often means farmers have to take their opportunities where they can and then use artificial drying machines to dry the grains down once they're brought in from the field. A harvest without having to use the dryer shed is a rare one! 
Yield is the amount of grains per tonne that the combine collects. A good growing year can give yields of four to five tonnes per acre whereas a bad year might only produce yields of two to three tonnes per acre. 
This year, farmer Tom (pictured) estimates that the wheat will yield slightly under average and the barley slightly over but really we have to wait and see! 
Whatever happens, it will still make lots of tasty beer and whisky!
This was taken from the Directors' Diary feature in our monthly newsletter. If you'd like to sign up for the newsletter, and get a 10% code off online orders into the bargain, simply follow this link.
---
Share this post
---
---