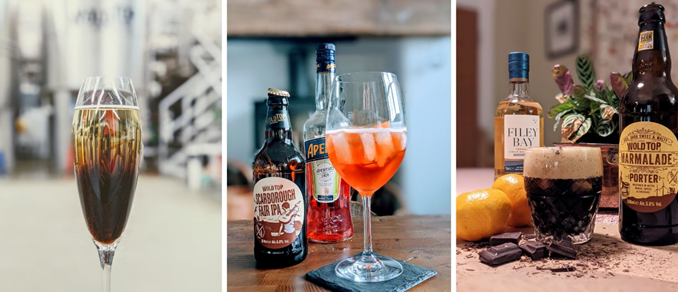 Directors' Diary - Festive drinks
Posted by Kate Balchin on
We're all about finding new and exciting ways to amp up our range, so with that in mind, here are some ideas for festive drinks that all incorporate some lovely Wold Top beer :)
A solid favourite with our office team is this lovely Black Velvet cocktail, originally created to commemorate the passing of Prince Albert in 1861.
Black Velvet
120ml champagne/prosecco/English sparkling wine
120ml marmalade porter
Both drinks need to be well chilled. Pour the champagne into a flute until half full. Then slowly pour the beer on top using the back of a spoon to create a layer.
Next, we have a nod to our Italian connections and importers with this twist on a classic 'spritz'. The beer replaces the prosecco and soda water and makes it taste just as good as the original!
IPA & Aperol spritz
50ml Aperol
180ml IPA
Orange peel
Lemon peel
Fill a tall glass with ice. Add the Aperol. Slowly pour in the beer. Twist orange and lemon peel together and gently squeeze into the drink. Rub peel around the rim of the glass then place peel into the drink as a garnish.
Finally, and this is definitely a winner during cold winter months, we have a boozy, chocolate orange marmalade cocktail. Perfect for dark nights, roaring fires and enjoying with friends. 
Orange Marmalade Porter cocktail
a small handful of ice cubes
25ml orange liqueur
25ml whisky (we recommend Filey Bay….) 
200ml Marmalade Porter
dark chocolate shavings, to garnish (optional)

Pop the ice cubes into a tumbler/short glass and pour over the liqueur and whisky. 
Top up with the Marmalade Porter and garnish with the chocolate shavings.
Cheers! 
---
Share this post
---
---