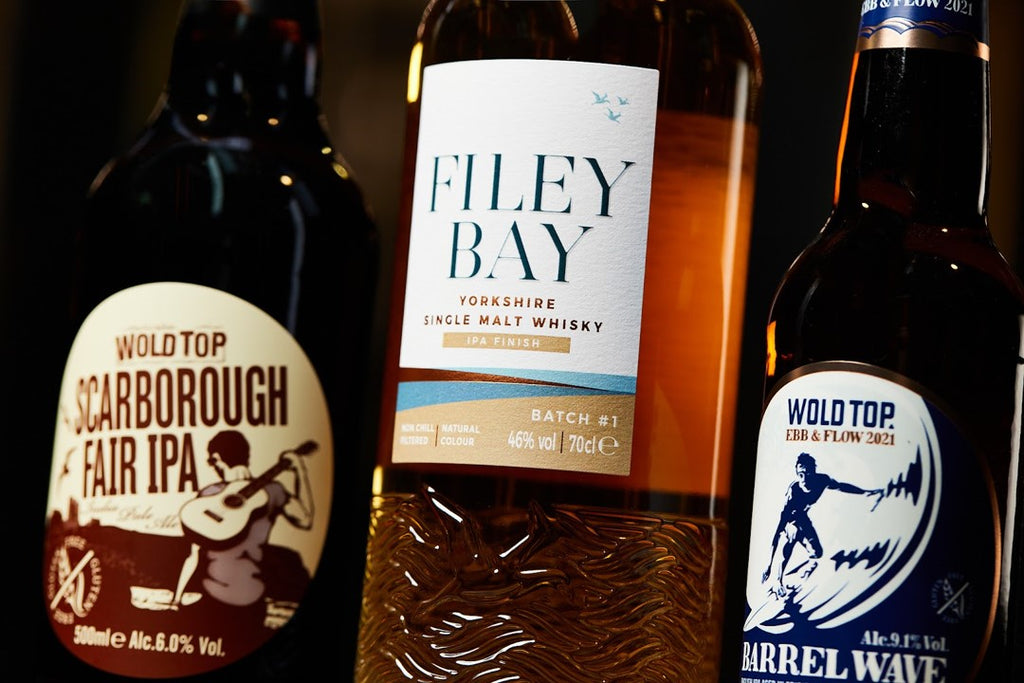 Barrel-aged beer
Posted by Kate Balchin on
This month sees the release of our third barrel-aged beer and we're very excited about it!
Barrel-aged beer is beer that has been aged (sorry to state the obvious here!) for a period of time in a wooden barrel. Typically, these barrels will be ex-bourbon, whisky or wine with the odd sherry, brandy and port barrel used every now and again.
It's a process that has been quite well known about in the USA for the last few years but due to the more limited availability of barrels here in the UK, it's been slower to the market here.
Historically of course, when beer was first produced, it would have been stored in wooden barrels and indeed brewed using wooden vessels, as this was the cheapest and most readily available material at the time. However, the main difference here would have been that these barrels were 'new' (in that they hadn't contained any liquid previously) so the flavour of the beer would only have been impacted by the wood used to make the barrel.
The main draw for barrel-ageing beer in pre-used bourbon/whisky/wine casks now is that some of the spirit or liquid that was previously in the barrel will have been absorbed by the wood. So when the barrel is then filled with beer, these flavours are drawn out and mixed with the beer to impart a wonderful new taste. 
With the emergence of more UK based distilleries (not just Scottish ones), the availability of barrels has become much wider so it seemed a logical step for us to work with our very own sister distillery, Spirit of Yorkshire, to create our own range.
Swell was the first of our barrel-aged beers (within our 'Ebb & Flow' range) and for this initial beer, we went quite traditional in the process. Up here at Wold Top, our brew team created a new, dark, rich beer at 10% abv specifically for this purpose. Whilst it fermented, Joe, Whisky Director at Spirit of Yorkshire, sourced the barrels. These were a combination of bourbon, sherry and wine casks that had previously held their Distillery Projects 003 release. This beer was matured in barrels for 11 months before release in February 2020.
Next up was Barrel Wave, for which we took our best selling bottled beer, Scarborough Fair IPA and aged it in Filey Bay Flagship single malt casks for eight months. In this, the soft citrus fruits and hoppy bitter notes from the beer marry beautifully with the light, creamy, vanilla flavours from the Filey Bay whisky and gives a deliciously rounded, smooth and full-bodied taste.
After we had emptied these barrels, the team at Spirit took them back in house and used them to 'finish' a batch of whisky to create their best selling Filey Bay IPA Finish. A win all round! You can see the 'family' in the photo above.
Our next Ebb & Flow beer has just been packaged and is being made ready for release as you read! This time we've taken our flagship lager, Landmark, and aged it in barrels for 12 months.
We'll let you try it and see but honestly, this one is a definite winner!
---
Share this post
---
---